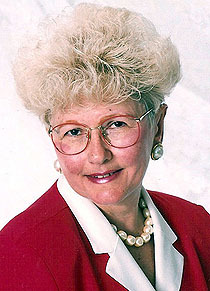 | CENTURY 21 Advance Realty
About Maria
Please allow me the opportunity of marketing your home. I am confident that you will be very satisfied with my honest and dedicated service. I have been affiliated as a full-time REALTOR® since 1992 with CENTURY 21 Advance Realty and have been an honored recipient of the Century 21 Pinnacle Quality Service Award from 2005 through 2012 because of client satisfaction as expressed through surveys. I have earned the Certified Buyers Representative (CBR) designation and Seniors Real estate Special (SRES) from the National Council of REALTORS®. I am a Medford homeowner and have lived in Medford for most of my life.
Testimonials
"I love Maria! She sold my house for me, and when I found a condo that I liked a few months later, I called her right away to help me purchase it. Maria was wonderful in helping me make an offer! She advised me to think about the offer in a way that I would never have thought of on my own. I believe her advice is what helped seal the deal. She absolutely knew what she was talking about and absolutely knew better than me! The offer was accepted within a few hours. Maria went the extra mile in helping me purchase my new condo. She even met me at Dunkin Donuts on my lunch hour so we could go over the offer and then again with the Purchase and Sale. She called me as soon as the offer was accepted and was as happy for me as I was! She helped me find an Inspector in short time and also suggested a Lender who was very easy to work with. All in all, it was a very good experience. I love my new condo, and I love Maria Cappadona!"
Linda - Peabody, MA
"We chose to work w/ Maria Cappadona for several reasons. One in particular was that she was a local girl and knew the market, our building, and the city well. In addition, Maria has a presence in the community and my husband runs into her every where while out and about. We interviewed Maria in our home. Maria's experience in sales was important, but equally as important to us was her strength of character, and her ability connect with us as first time sellers. Maria was very easy to work with. She was always available when a question arose or clarification was needed. (Both occurred often. Poor Maria!). This was our first home selling experience and the complex process was un-chartered territory for us. Her patience and guidance were greatly appreciated!! Maria suggested that we consider a few manageable updates that could be pleasing to buyers. She was absolutely right! The updates make the place shine and they paid off, literally! Maria was very savvy in handling all aspects in a very detailed and thorough manner. We would absolutely recommend Maria. She is presently supporting us as our buyers agent!"
Kristen L, Medford
Maria's Testimonials
"i was delighted to work with MARIA,I found her to be very professional and knowledgeable about the unit i was looking at and, the Realestate business in general. I would work with her again and would highly
First, I would like to thank God for giving me a place to live. I was very thankful that Maria was my agent (my family). Maria hasn't only helped me to secure a mortgage, but she went to far from that. I haven't bought a
Maria Cappadona is a true professional. She learns who her client is and does everything to ease the process of selling a family home. She weathered the emotions and time constraints that we put on her. She
She is honest, sincere and works hard to get the deal closed. She made it easy and comfortable. She is highly professional.........Donna LeBert
In our P&S there was a 2 week extension option for closing. Maria Cappadona stepped up and made sure the extension papers were filed when we weren't sure that our lawyer had taken care of the extension. On
Thanks Maria for her excellent job!............ Jifeng Liu
I worked with many real-estate agents. Maria professionalism and consideration to specific circumstances exceeded all my expectation. She was constantly available, even during the holiday, and very easy to
Maria Cappadona was a wonderful realtor! I would highly recommend her to anyone looking to buy or sell........Lauren, Medford Printed on:
Maria did a terrific job in selling our home. Our home was sold at a great price and closed quickly. We had already moved out and were out of state. Maria took care of our home, had it cleaned for us after we
"We used Maria in the sale of our condo in June 2016. As we appreciated her attention to us in that process, using her services for the purchase of our next home was logical.